Bonjour,
voici une page réalisée pour un BOM, c'est un challenge qui me plait particulièrement, je pense donc que je vais faire plusieurs pages de ce style avec mes petites recettes préférées! lol
Here is a page realized for a BOM, it is the challenge which pleases me particularly, I thus think that I am going to make several pages of this style with my small favorite receipts! Lol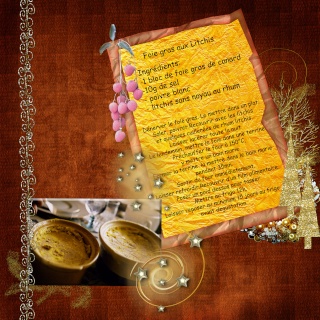 Credit: - kit "in xmas gold mine" de Waterlo Project
- les litchis de mon kit "le kit de Ginette"